About the Project
Before the pandemic, I would sell laser cut jewelry at local art markets under the name Sad Boiz Co. with my friends. Now that I cannot sell in person and have lost my access to the laser cutter, I wanted to find a way I could continue making and selling jewelry. Since I have been doing polymer clay since fourth grade, I decided to use polymer clay for my new jewelry. Sunset Cherry Designs (SCD) is my online shop that has allowed me to continue creating and selling what I love. I wanted to establish a brand identity for SCD to help my store stand out online. I used Illustrator to design the SCD logo, creating the foundation of the brand.
Branding Decisions
For SCD's branding, I wanted to keep it playful and simple to reflect the designs of the earrings and SCD's hope of bringing a pop of color into the audience's daily life. I also wanted to use colors from sunsets and cherries, such as reds, blues, and greens, to reinforce the name of the shop.

After playing around with different designs and typefaces, I decided on a simple cherry logo. The cherry shape is made of a single curvy navy blue line with two offset blobs of color to fill in the cherry leaf and fruit. The curvilinear line and offset color blobs keeps the design playful and carefree. For the typeface, I picked Basic Sans from Adobe Fonts because I think it is very clean and minimal, but it still has some subtle flares that match the branding.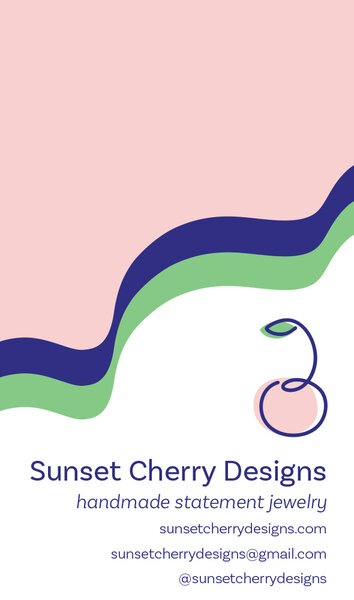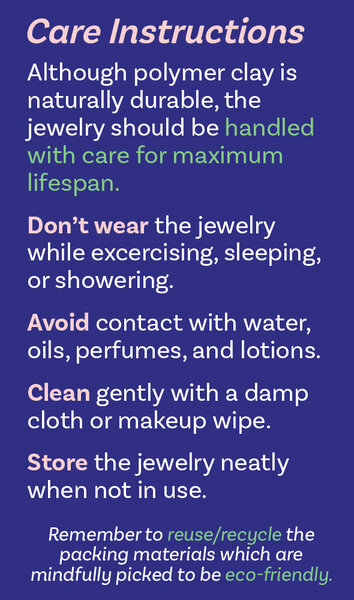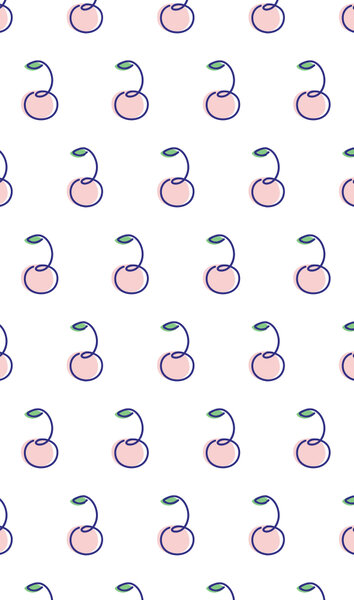 FRONT OF BUISNESS CARD, FRONT OF CARE FRONT, & BACK OF BOTH CARDS
About SCD's Earring Making Process
The earrings are made by rolling out slabs of polymer clay and cutting them out with 3D printed cutters. I fully participate in every step of this process by 3D modeling and printing the cutters as well as mixing each clay color and making each clay slab.